Selecting Objects and Areas for Editing
In this tutorial, learn how to make a selection on the canvas. After making a selection, you can:
Resize or move objects
Change the settings for multiple objects
Remove the unwanted parts in an image
Cut or copy the selection to paste into other captures or programs
Select an Object
Vector objects are pasted images or objects drawn onto an image. You can move, resize, and edit vector objects on the canvas.
Click to select an object on the canvas.
Shift+click to select multiple objects.
When an object is selected, an outline and white handles appear around the object.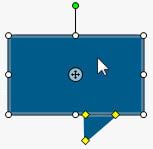 Select an Area or Multiple Objects
In Snagit Editor, select Tools tab > Selection tool

Select a shape

Click and drag the cursor on the canvas
Hold the Shift key and drag to select another area on the canvas
Continue with Cut, Trim, or Crop Unwanted Sections of an Image