Resize an Image
Do you have specific size requirements or need an image to fit onto a page? Use the Resize option to enter new dimensions (in pixels) to scale the size of the image.
In Snagit Editor, select the Image tab > Resize Image.

The Resize Image dialog appears. Enter a new value in pixels for the width and height or enter a percentage.

As you change the value, a preview of the resized image appears on the canvas. Click OK.
Create More Space in an Image
Are you out of space on the canvas and need to add more items to an image? Simply drag a white handle on the edge of the canvas out to create more space.
The new dimensions appear in the lower-left corner of Snagit Editor.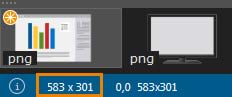 Resize the Canvas
In Snagit Editor, the canvas is the working area for editing captures. If you are combining images and need the final image to be specific size, use one of the following options to resize the canvas.
To create a new blank canvas, select File > New. Enter the dimensions in pixels and click OK.
To resize the current canvas to a specific size, select Image tab > Resize > Resize Canvas. Enter a width and height in pixels and click Close.