Share Corporate Styles and Standards
SNAGIT 13
Assist your coworkers in designing professional content that reflects your style guide and brand. Create a set of custom styles in Snagit to share across your organization.
With the release of Snagit 13.1, there's a better way to share your styles across your organization!
Please see the tutorial on Quick Style Themes to learn more.
Build Consistent Styles for Your Organization
Maintaining consistency in the images on your website, documentation, social media, and sales communication can help to:
Provide a consistent voice across all content.
Establish recognition, credibility, and make your brand feel more dependable.
Make your content look polished and professional.
Creating Styles Based on your Brand
Build a .snag file to share your custom styles with others. The .snag file automatically shares the Quick Style properties, saving you the time it would take to document and set up the properties on another computer. The .snag file format saves the current state of an image and allows for vector-based objects on the canvas to be edited at a later time.
In Snagit Editor, select File > New.
Click to select a Quick Style in the properties. Or, set up a new Quick Style. To learn how, see the Add a Quick Style help topic.
Add or draw the style onto the canvas.
Repeat steps 2 and 3 until you have added all of the desired styles.
Select File > Save As.
Enter a file name and select the SNAG file format.
Click Save.
Note: The .snag file format is only supported on Snagit Windows. To create and share these Quick Styles on Snagit Mac, see the tutorial.
Sharing Quick Styles with Coworkers
After creating a .snag file with the custom styles and labels for your organization, share these styles with your coworkers. Send the .snag file with the following instructions:
Download the .snag file onto your computer.
Double-click the .snag file to open it in Snagit Editor.
Right-click on a style on the canvas and select Add to Quick Styles.
The new style appears in the Quick Styles. Continue this process until you have added all of the desired styles.
Here are some tips and a sample style guide to help you get started creating your own Quick Styles to match your company's style guide.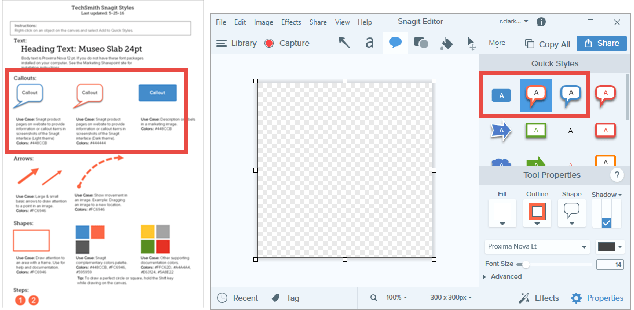 Tips for Tools
---
Callout​
When using a callout to draw attention, make sure to select colors that stand out from the background or interface. One callout style may not accommodate all images. Make sure to include alternative styles based on the purpose for the images. For example, consider creating separate styles for callouts used on light backgrounds and on dark backgrounds.
Experiment with different Shape styles:

Use shapes with a tail to draw attention to an item or as a speech bubble
Use the simple rectangle shape style as a text box or to make text readable on the image.
---
Text
Make sure to use a consistent font type across the styles. Establish standard fonts to use for body text, callout text, and for headings throughout your content.
---
Arrows
Set up different line and end styles based on what you are trying to convey. For example:
An arrow with this end style signifies a starting point in the image.
Add a bezier curve or change the line style to show motion.
---
Shapes
Set up shapes with the approved brand colors or complementary colors for coworkers to build charts, infographics, presentations, or other resources.
---
Step
Customize the step color to ensure the labels stand out or compliment the colors in the image. Add these labels for diagrams, documentation, presentations, and tests.
---
Stamps
If you did not capture the cursor with the original image, you can use Stamps to add the standard cursor at a later time. Include acceptable cursors to use for each platform
---
Match a Color on the Screen (Various Tools)
Use the Eyedropper tool to match a color in a logo, image, or on the screen:
Open item to match the color on the screen.
In Snagit Editor, select the desired tool or effect.
The properties appear. Select the Color dropdown > Eyedropper tool.

Move your cursor over the color to match on the screen.

Click to select that color. You can also enter a HEX or RGB color value into the field in the Color options.
---
Add Informative Labels (Text)​
In the .snag file, add text to help label how each style should be used. You may also want to include the RGB value or HEX value for the colors used.
To see an example of custom styles in a .snag file, download the example style guide here.
Start Here
We cover the essentials in these Getting Started tutorials. Learn the basics in less than 30 minutes!
Reach Higher
Take your Snagit skills to the next level with tutorials that cover advanced capture, editing tools, and more!
TechComm & Training
Get started with video in your training and technical documentation.
10 Ways to Make Better-Looking Visuals for Your Technical Guide
Learn 10 ways to make better screenshots.
How to Document a Process with Video
Learn how to document any computer process by creating an "off-the-cuff" video tutorial.
Maintain Visual Consistency in Your Documentation
Learn how to style graphics so that all your visuals reinforce and leverage your brand.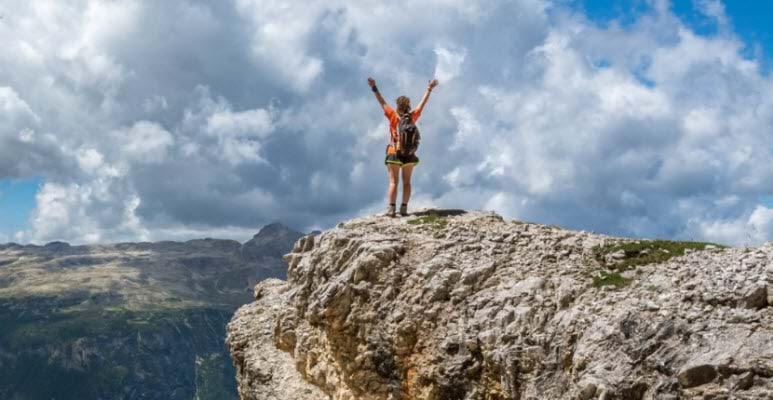 Full Potential
Get more out of Snagit with integrations and companion apps.
Looking for help with a different version of Snagit?
Snagit Version 12 (Windows)
Snagit Version 3 (Mac)