Customizing the Tools using Quick Styles
The Styles Gallery is a collection of preset styles for the tools and image effects.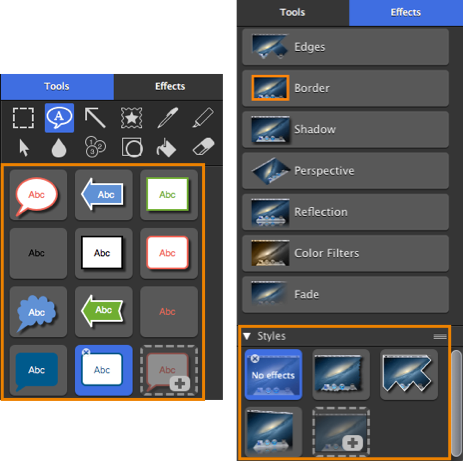 Note: Tools and effects are only available for image captures. To apply similar effects to a video capture, share the video to Camtasia.
Save a customized style to the Quick Styles Gallery when:
You frequently use the same custom arrows, callouts, or other annotations.
You need to adhere to your company's branding standards such as specific fonts and colors.
You want to avoid recreating or remembering the specific settings for tools or effects used in a capture.
You are single-sourcing an image to multiple destinations that have different effect requirements. For example, your website image standards require a one pixel gray border around all images.
Add a Custom Style to the Quick Styles:
On the Tools or Effects tab, select the desired tool or effect(s) and edit the properties.
As you edit the properties, the customized style appears in the Style Gallery. If you hover over the custom style, you can view the specific properties.

Click the Add Style button to permanently add the style to the gallery.