Create Images for the Web
Learn how to quickly create professional looking graphics for use on the web using Snagit's effects and sharing options.
Enhance Image Captures with Effects
In Snagit Editor, the Effects tab offers several image effects that can be applied to enhance our image captures. Try some of the following effects for web images:
Border: Ideal for making graphics stand out on a page and not blend into the website's background.
On the Effects tab, click the Border effect. Click the gear icon to adjust the border color and width.
Perspective/Reflection Style: Ideal for jazzing up demo graphics or screenshots of a product on marketing pages.

On the Effects tab, click the Perspective Reflection style.

Torn Edge: Ideal for visually demonstrating that a portion of the capture was cut off from the original or for an artistic effect.

On the Effects tab, click the Edge effect. Click the gear icon to select the type, size, and which side(s) to apply the edge effect.
Transparency
You can make the background of a capture transparent so that the background will blend into a web page. Use a transparent background when your capture includes any of the following:
Rounded edges or irregular shapes
Transparent windows
It will be posted on a website with a patterned or mult-colored background
Transparency is displayed on the canvas with a checkerboard pattern. By default, the canvas background is transparent.
In the example below, the capture on the left has a white background and the image on the right has a transparent background.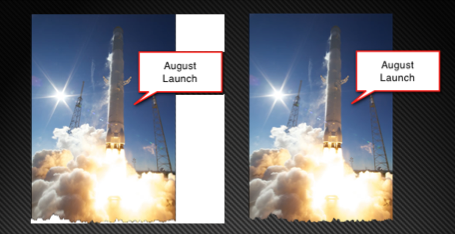 Flood Fill an Area with Transparency
If you want portions of a capture to be transparent, you can use the Fill tool.
On the Tools tab, click the Fill tool.
Select the transparent style. Drag the Tolerance slider in the properties.

Click the area to fill with transparency.
Web File Formats
Not all file formats are supported on the web. Select one of the following file formats to make your image viewable on the web:
File Format
Advantages
Disadvantages
GIF

Optimal for images with fewer than 256 colors or contain large areas of uniform color
Single-bit transparency

Lossless, only up to 256 colors
Not ideal for photographic images

JPEG

Optimal for photographic images
Smaller file size

Lossy
Jagged edges for line art

PNG

Optimal for images with large areas of uniform color
Supports partial transparency
Lossless
Embed Images on a Website or Blog
Screencast.com provides an embed code that allows you to embed your images hosted on Screencast.com directly onto your website.
Select Snagit > Preferences > Outputs tab.
From the Clipboard Contents dropdown menu, select HTML Embed Code.
Close the Preferences dialog.
Click the Screencast.com output button.
If you have not saved your login information, enter your username and password and click the Sign In button.
After the image uploads, copy the Embed code.
Paste the Embed code into the desired location on your website.