Share to Screencast.com
Screencast.com is an image and video hosting service from TechSmith. Screencast.com provides a URL for easy sharing to your audience and an embed code for embedding the capture on a website or blog.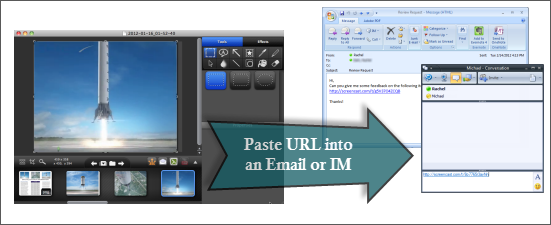 Use the Screencast.com output to:
Collaborate quickly on projects without slowing down to save and open attachments.
Avoid concerns over viruses, file sizes, or incompatibilities.
Use visuals in places that don't accept attachments (e.g. blog comments, forum posts, Twitter).
Collect a library of visual examples; view them from any computer.
Gather comments on your capture, control who sees the capture, offer an RSS feed, and more with Screencast.com's additional features.
Share to Screencast.com
Click the Screencast.com output button or select Share > Screencast.com

The Screencast.com Sign In dialog appears if you have not set your Screencast.com account settings in the Preferences.

If you have not previously shared to Screencast.com, select Create a new account.
If you have previously shared to Screencast.com, select Use my existing account and enter your Email and Password. Click Sign In.

Snagit Uploads the capture onto Screencast.com. When the upload is complete, a message appears informing you that the capture link or embed code is on the clipboard, ready for pasting and sharing into an email, instant message, or another location. Press Command-V to paste your capture.
Customize the Screencast.com Account Settings
You can customize, save, and set up multiple Screencast.com accounts from the Output Preferences dialog.
Select the More Outputs button and click the Output Preferences button.

Click the Screencast.com option. The Screencast.com output settings appear below.
Click Sign In to set up an account username and password. Select Save Password in Keychain to remember this account. Click Sign In.
From the Clipboard Contents dropdown, select one of the following options:

URL: Provides the Screencast.com URL after uploading to allow you to quickly paste the URL for sharing.
HTML Embed Code: Provides the embed code after uploading to embed the capture on a website or blog.

Select the Folder to upload the capture into. Snagit is the default folder.
To allow users to comment on the capture, enable the Allow commenting on Screencast.com option.
Close the Preferences dialog.
Snagit remembers these account settings. To share a capture with these settings, click the Screencast.com output button above the Open Captures Tray.