Working with the Capture Window
0:10 – Finding the capture window
0:20 – Re-opening the capture window
0:30 – Capture window options
0:50 – The copy to clipboard button
1:05 – Keyboard shortcuts
1:30 – Other shortcuts
2:00 – The editor
2:07 – Additional capture options
2:17 – Delay capture
2:33 – Select/change microphone
Working with the Capture Window
Expand the capture options
Move the cursor over the red Capture button on the right side of the screen to expand the Capture window options.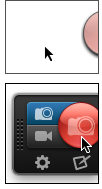 Move the Capture window
By default, the Capture window appears on the right side of the screen. The Capture window can be docked anywhere along the left or right side of the screen.
Click and drag the Capture window to any location on the screen.

Image and Video Capture buttons
The Image Capture and Video Capture buttons provide the flexibility to capture the entire screen, a window, an area of the screen, or a scrolling region (image only) all from a single capture option.

To learn how to take a capture with these options, see All-in-One Capture or Record a Video.
Access additional capture options
You can access the capture options such as setting the capture keyboard shortcuts, previewing after capture, capturing the cursor, or setting a delayed capture by clicking the Additional Capture Options button on the Capture window.