Introduction to Profiles
A profile consists of settings that determine how a presentation is recorded, processed, and presented.
To access information on profiles available to you, log in to the TechSmith Relay (Self-Hosted) website, go to Profiles > My Profiles, and then click a profile in the table. If the profiles available to you are not meeting your needs, please contact your TechSmith Relay administrator to discuss other options.
Only TechSmith Relay administrators can create or modify profiles.
Settings included in a profile: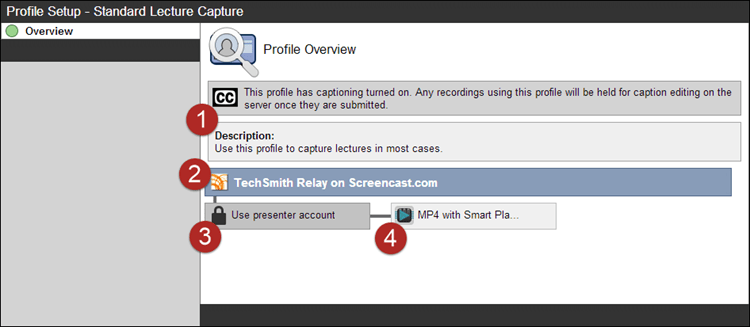 Description: What should you use this profile for? The description is entered by an administrator to help you to choose the correct profile for your needs.

Publish destinations: Where do produced files go? Presentations can be published to one or more destinations. Examples include an FTP server, a network drive, or Screencast.com.

Account: Some profiles use a default account, which tells TechSmith Relay to use one set of login credentials, and publish to a certain folder within. Others use the presenter account, which asks users to provide and log in with their own credentials. For example, If an administrator wanted all presentations to go to one Screencast.com account, but different folders within that account, they would likely select the default account. However, if they would prefer that presenters publish to their own Screencast.com accounts, they would select the presenter account.

Encode settings: What kind of files are produced? The original recording is encoded into one or more formats. Examples include an audio only (MP3) encoding or a Windows Media format. Encoding can reduce the frame rate and audio quality, but can never improve the original recording.