Adding Media to Your Library
TECHSMITH RELAY
So, you've logged in to TechSmith Relay for the first time and your media library is empty. Let's do something about that! This tutorial will show you several options for adding media to your library.
To Add Media
First, log in to your TechSmith Relay website.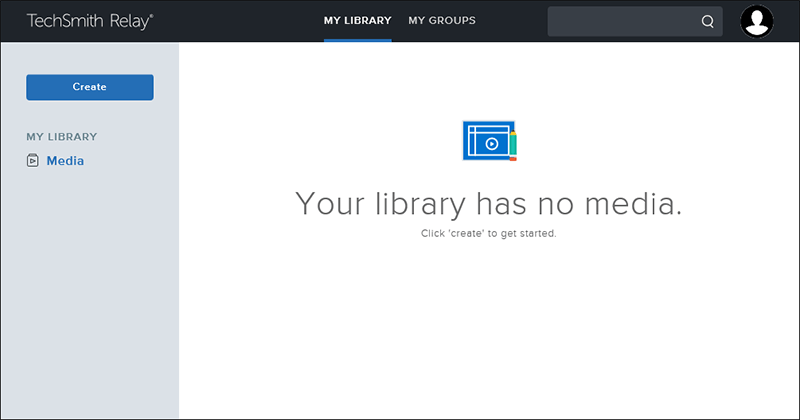 From your TechSmith Relay website, go to My Library and click Create. This menu displays your options for adding media to your library.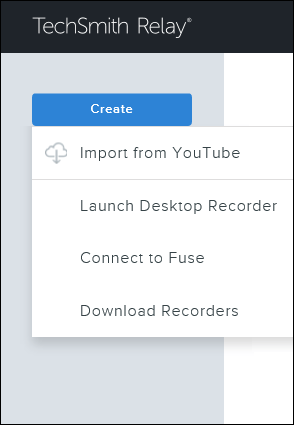 Here's a detailed explanation of each of these options:
Import from YouTube
Paste a YouTube link into the URL field and click Submit to add the video.

Once it finishes processing, you'll be able to see it in your library.
Tip: Only YouTube videos that are Public or Unlisted can be added to TechSmith Relay. If you try to add a video from YouTube that the owner has made private, you'll receive an error.
Launch Desktop Recorder
This time-saving menu item will launch TechSmith Relay Recorder if you have it already installed on your computer. With TechSmith Relay Recorder open, you can record new presentations or upload existing videos and images from your computer.


If, after seeing this message, the recorder does not launch, check to see if it's installed on your computer. If it's not, use the link in the message to download and install it.
Need help downloading and installing the recorder? Click here.
Connect to Fuse
TechSmith Fuse is a mobile app that will help you get images and recordings off your mobile device and into your library. You can download it for free from the App Store, Google Play, or the Windows Store. The QR code pictured in the dialog below is used to connect your mobile device to TechSmith Relay.


To learn more about how to connect your mobile device to Fuse, watch this video tutorial: Recording On-the-Go with TechSmith Fuse
Download Recorders
From this page, you'll find all of the recorders your administrator has made available for download. With these recorders, you'll be able to create new recordings and submit them to your TechSmith Relay library, as well as upload existing content.

All Tutorials
This is the complete list of our tutorials and guides for TechSmith Relay users and administrators.