Overview
An Audio Description (AD) track is a secondary narration track, intended to describe important visual details that cannot be understood from the main video soundtrack alone. An AD track provides information about actions, characters, slide contents, on-screen text, and other visual content to people who are blind or have low vision, as well as those with cognitive limitations who have difficulty interpreting visual elements.
Guidelines
Providing AD tracks (when necessary) helps to meet the requirements of WCAG 2.0 AA compliance.
AD tracks are not necessary if the video narrator sufficiently describes what's happening on the screen as part of their normal narration.
AD tracks should occur in natural breaks/pauses in your video, to prevent overlap with the main audio track.
AD tracks should sync up with and, in most cases, not be longer than the main audio track.
How to Create an Audio Description Track
You currently cannot create an audio-only file with the TechSmith Relay recorder. However, many free audio editing tools exist online. Users can also export audio-only files using Camtasia, a powerful screen recorder and video editor, also from TechSmith.
Please Note: TechSmith Relay supports both the MP3 and M4A audio file formats, when adding AD tracks to video content.
How to Add an Audio Description Track to a TechSmith Relay Video
Visit the video view page in TechSmith Relay.
Click on the Accessibility tab.
Select the Manage Audio Description action from the dropdown menu, then Confirm.
Upload your audio file by clicking Select a File to Upload (MP3 or M4A files only).

Once an AD track has been uploaded and attached to a TechSmith Relay video, viewers can toggle the playback of the secondary track using the AD Track button on the video player controls (note: this button is only displayed when an AD track is present).

For any video that has an existing AD track, you can select Accessibility > Manage Audio Description again (Step 3 above) for options to Dowload, Replace, or Remove the existing AD Track: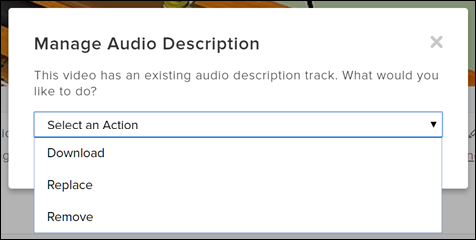 Other Notes:
The AD track does not have separate volume controls. The video player volume slider controls boths tracks simultaneously.
Videos without closed captions can still have AD tracks.
AD tracks are also sometimes referred to as "video description" or "descriptive narration" tracks.