Video Topics
0:00 - Introduction
0:18 - Adding a quiz to a video
​0:55 - Creating your first question
2:35 - Publishing and previewing your quiz
3:00 - Reviewing quiz results
Additional Notes:
Quiz Scoring
TechSmith Relay uses a simplified quiz scoring system, where each question can be marked as graded or ungraded. For total scoring, all graded questions across all question sets are given equal value.

Example:
If a video contains a total of 5 graded questions, each question is worth 20% of the final score. A perfect score would be 100%. A score of 3 out of 5 would be 60%.
Multiple Choice, True/False, and Fill in the Blank questions can be set as graded or ungraded. If a correct answer is indicated, the question will be included in the total quiz score. If no correct answer is indicated, the question will be ungraded. Free Response questions are open-ended, and therefore never included in the quiz score.



Note: When using a Learning Management System (LMS), quiz scores can be automatically reported back to the LMS through an LTI integration. See the LMS-specific tutorials for more information.
Question Feedback (Graded Questions Only)
(A) Text feedback entered in the feedback fields is displayed after a viewer submits their answer.
(B) Feedback actions happen after the viewer has had a chance to review the text feedback. Feedback actions include:
Continue - Moves on to the next question, or resumes watching the video.
Jump to Time - Takes the viewer to a designated point in the video.
Go to URL - Opens a new browser tab and displays web content.
Example:
An incorrect answer might jump the viewer back to the section of the video where the material in question was presented. Or, a separate web page might open in the new tab for the student to review. Often, it's best to combine the text feedback with a feedback action, like so:
"Sorry, that's not right. A website will now launch for you to review."
Editing Published Quizzes
Quizzes that you've published can be edited at any time. Simply choose the Edit option from the video quizzing tab (shown above). However, making changes to a video quiz wil reset the quiz and clear all prior results. To avoid data loss, download the CSV files prior to editing a quiz:

Tips for working with CSV files
CSV stands for Comma Separated Value. These files are best viewed in a program that allows you to manipulate data in cells, such as Microsoft Excel.
Results data is cumulative, so each downloaded CSV will include all responses, not just the responses since the last download.
These files contain name, detailed question answers, percentage of the video viewed, and more.
Image Quizzes
In addition to videos quizzes, TechSmith Relay users can also add image quizzes. Image quizzes have the same question and feedback options as video quizzes, and are displayed to the side of the TechSmith Relay image: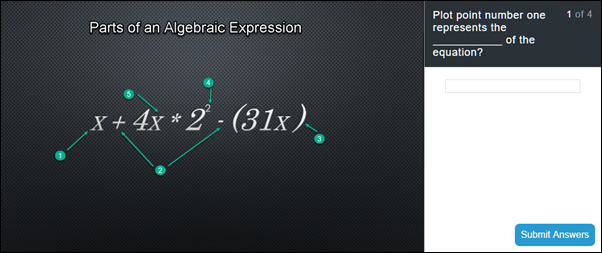 Follow the steps outlined in the tutorial video above to add a quiz to an image. Images are limited to a single question set, but that set can have as many questions as you'd like. Tip: Use the mouse scroll wheel or laptop track pad to zoom in and out of a displayed image.


Downloads