Video Topics
0:00 - What's the difference between folders and groups?
1:20 - Adding and managing folders
​2:15 - Multi-selecting media in your library
3:25 - Creating and managing groups
4:05 - Adding members to a group
4:50 - Sharing videos to a group
Folders and Groups FAQ
Do folders have privacy settings?
No. Your folders (including folder names) will be viewable by other TechSmith Relay users visiting your library. However, each individual piece of media inside the folder will still respect the media privacy setting, regardless of whether it is in a folder or not.
Can I share a link to a folder?
Yes, but with a caveat. To share a link directly to a folder, use the "Get Link" option from the folder actions: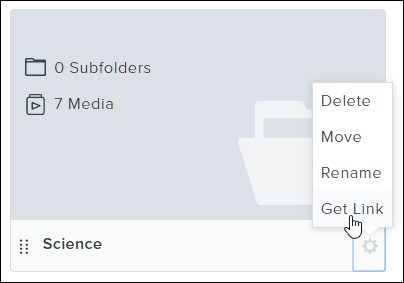 However, please note that the media inside the folder will need to be set to the "Anyone from your organization" or "Anyone with the link" if you'd like it to be visible to someone viewing the folder contents. Having a link to the folder is not the same as having a link to the media itself.


Can I create a folder in a group?
Not at this time. Currently, folders are for personal media organization only.


Do I have to manually add members to my groups?
Only if the group privacy is set to "By invite only". If you'd like to make it easier for TechSmith Relay users to join your group, consider using the "Open to your organization" or "Only those with the link" group privacy settings:

Open to your organization - Anyone who finds this group can openly join it.
Only those with the link - Users will need a link to find and join this group. To get the link, use the "Add a Member" option from the group Members tab, and the link will be at the top:

Can I submit my recordings to a specific folder from the TechSmith Relay Recorder?
No. All submitted recordings will go to the root level (Library). From there, they can be sorted into appropriate folders. However, if you're adding videos from YouTube and you'd like them to appear in specific folders, simply navigate to a folder location and choose Create > Import from YouTube. The imported YouTube video will be automatically placed in your current folder.


Downloads
All Tutorials
This is the complete list of our tutorials and guides for TechSmith Relay users and administrators.