Upload Existing Media
TECHSMITH RELAY
If you have existing media on your computer or a portable drive, you can upload those files directly to your TechSmith Relay library. This tutorial will show you how to upload media from both the website and the TechSmith Relay Recorder.
Overview
The most convenient way to upload existing media to your TechSmith Relay library is through the TechSmith Relay website. However, the web upload method comes with a few media requirements. If you have difficulty with the web uploader, please try uploading with the TechSmith Relay Recorder instead.
Uploading Media Directly in the TechSmith Relay Website
Log into TechSmith Relay and make sure you're on the My Library tab.

Tip: You can upload media directly to a folder location if you navigate to that location before choosing Create > Upload Media.
Click the Create button to expose additional options, then choose Upload Media.

A modal window will appear. Drag files onto the center of the window, or choose Select Files to Upload to open a file browser.

Select (or multi-select) the video and image files you'd like to upload. Then click Open.
Leave the window open until all files have been uploaded sucessfully (indicated by a green highlight). You may then choose to upload additional files or close the modal window.


Note: If you receive file errors, or otherwise are having trouble uploading a particular file, please refer to the Media Requirements.
Your new media should now be available in your TechSmith Relay library.

Uploading Media from the TechSmith Relay Recorder
If the video files you're trying to upload aren't quite web-ready, or if you're having difficuly uploading them using the website, you can use the TechSmith Relay Recorder to upload the files instead. Uploading media this way will send your media through the TechSmith Relay encoding process. Because files uploaded with the recorder are re-encoded by TechSmith Relay, they may not be immediately shareable. However, we recommend trying this method before attempting to re-encode the videos yourself.

Log into the Recorder
First, launch the TechSmith Relay Recorder, and Log In.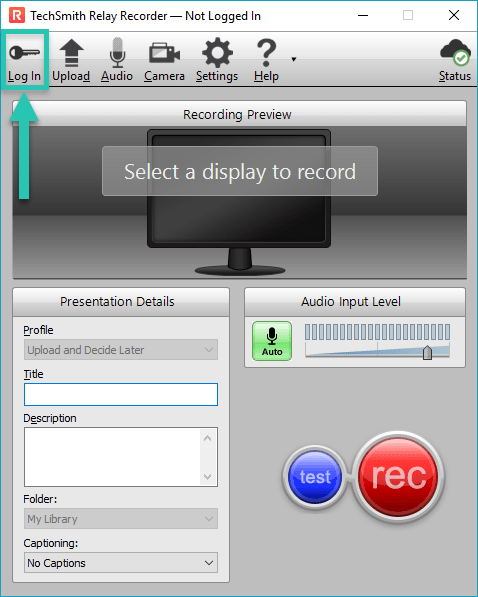 Upload Media
To upload media from your computer, click the Upload icon in the upper left corner.

The Upload Media list will open. Click Add Media.

Select (or multi-select) the video and image files you'd like to upload. Then click Open.

Finally, if you'd like to edit the title or description for a file in the list, use the pencil icon. (You can also do this later on the TechSmith Relay site.)

Click Upload All to add your media to TechSmith Relay library.

Once your media has uploaded successfully, you will receive a confirmation message to let you know your media is being processed.


To view and manage uploaded media, log into your TechSmith Relay site and visit your library.
Help with Other Tools
All Tutorials
This is the complete list of our tutorials and guides for TechSmith Relay users and administrators.