Teachers Use Technology to Flip Their Classrooms
Educators like Greg Green of Clintondale High School are flipping their school's teaching model upside down with TechSmith tools. Discover what the flipped classroom model is and how it can benefit any school.
What is the flipped classroom?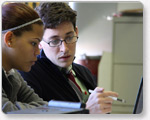 A reversed teaching model that delivers instruction at home through interactive, teacher-created videos and moves "homework" to the classroom. Moving lectures outside of the classroom allows teachers to spend more 1:1 time with each student. Students have the opportunity to ask questions and work through problems with the guidance of their teachers and the support of their peers - creating a collaborative learning environment.
What are some benefits of this method?
Gives teachers more time to spend 1:1 helping students
Builds stronger student/teacher relationships
Offers a way for teachers to share information with other faculty, substitute teachers, students, parents, and
the community easily
Produces the ability for students to "rewind" lessons and master topics
Creates a collaborative learning environment in the classroom
I'm really interested in this concept... now what?
Check out the information and real world examples below to learn what the next best steps are for you.