How many creators need Audiate?
Text-based editing with Audiate makes it easy for anyone to edit audio, and save a ton of time with video creation. Audiate transcribes recordings into text, letting you make precise edits without being an expert.
Best Value
Yearly Subscription
Save with an annual subscription.
Best Value
Monthly Subscription
Keep it flexible with a monthly subscription.
Edit Audio Like Text
Text-based audio editing makes it easy for anyone to edit audio, and saves even professionals tons of time.

No more expertise needed. No more time wasted.
Audio Transcription
Record or import audio and get an immediate transcription. Audiate can transcribe and edit audio in multiple languages, including English, Spanish, German, French, and more.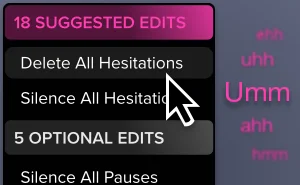 Automatic Hesitation Detection and Removal
Instantly find and remove mistakes like "ums" and "ahs". Audiate marks hesitations and makes it easy to remove them with a single click.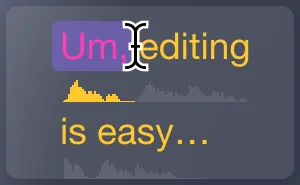 Text-Based Editing
Quickly find mistakes and edit like a pro with text-based editing. It's easy to find and remove issues with your audio transcription text.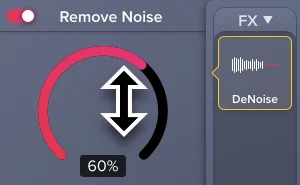 Noise Removal
Eliminate pesky room noise and other imperfections with the Remove Noise effect.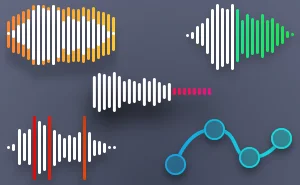 Professional Audio Effects
Improve your audio quality with a variety of professional audio effects. Use studio-quality effects to easily enhance your voice, and solve common audio issues.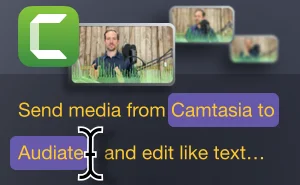 Edit Video Like Text
Text-based video editing using Audiate + Camtasia helps you edit video faster and easier than ever before. Make your edits in Audiate and automatically sync them up in Camtasia.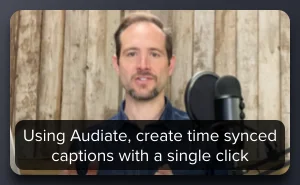 Generate Captions from Transcriptions
Export text transcripts as text or .SRT files or send them back to Camtasia as captions that are automatically synced with your video.