Camtasia for Mac Features
Quickly create engaging, high-quality videos. Camtasia for Mac screen recording software is streamlined, intuitive, and makes you look like a pro. Easily capture onscreen activity, add professional polish, and communicate your message visually.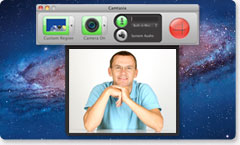 Capture What You're Seeing and Doing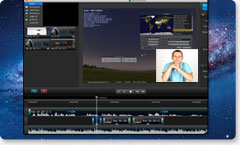 Create Videos with Professional Polish
Share and Interact
with Your Audience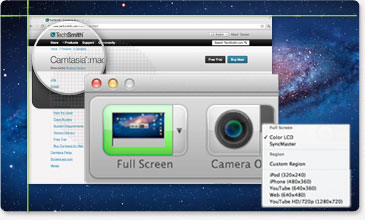 Record Anything on Your Screen

Powerful Screen Recording Technology
Fire up the application, webpage, or Keynote presentation that you want to appear in your screencast video, and record everything that happens on your screen. Camtasia for Mac's flexible recording options give you the freedom to capture full screen, window, or region.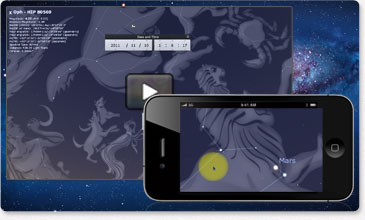 Focus on What Matters

Smart Focus
Call attention to the important details in your video automatically. SmartFocus analyzes the position of your mouse cursor, which windows are active, when text is entered, and automatically predicts the best spots to zoom into on your video.
---
Easily Create Videos with Professional Polish
Easily create engaging videos while working with incredible speed and quality. Camtasia for Mac's redesigned editor interface gives you an even more intuitive way to edit what you need, quickly. Save time, without sacrificing quality.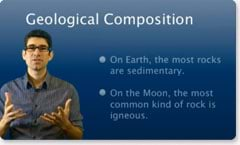 Put yourself in your video!

Green Screen Effect
Integrate yourself or others directly into your videos – making it appear as though you're right in the action of your videos. Also known as chroma key, the green screen effect allows you to create more professional and engaging videos.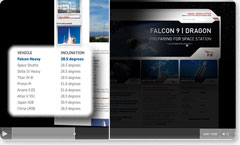 Focus on what's important.

SpotLight and Mask FX
Use Spotlight and Mask FX to easily focus viewer attention to specific actions in your videos. Spotlight FX casts a light source across your media, and the Mask FX allows you to hide your screen, revealing only specific points of interest.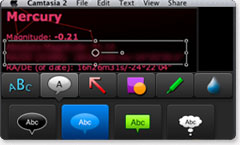 Call out or hide information.

Annotations and Blur Effect
Easily add sketch motion callouts, speech bubbles, arrows, shapes, lines, and more to point out specific features throughout your video. Or, simply blur private information distracting parts in a video.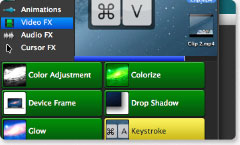 Emphasize your movements.
Cursor FX and Keystrokes

Draw attention to mouse clicks by highlighting, magnifying, or spotlighting points of emphasis, or add keystroke callouts to automatically capture any keyboard shortcuts used during recording and show them off as a graphic in your video. Add any of these engaging effects to help your viewers follow along with what is happening onscreen.
---
Share and Interact With Your Audience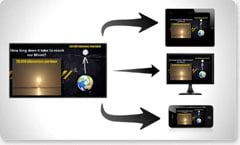 Share your videos anywhere. 

TechSmith Smart Player™
Share high-quality, HD videos at anytime, on nearly any device. The TechSmith Smart Player is intuitive
and detects if your viewer's device
or browser requires Flash or HTML5 playback support. It also makes interactive elements like hotspots, quizzes, closed captioning, and table
of contents possible.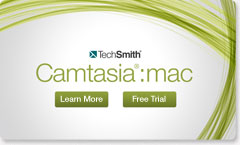 Make objects clickable. 

HotSpots
HotSpots let you create a link from anything in your video. Easily turn photos, text, graphics, and more into clickable hyperlinks that allow viewers to interact directly with your video content. Whether you're linking to a purchase page, download, or just additional content, HotSpots make it easy to keep your audience engaged.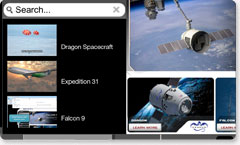 Organize your content.

Table of Contents
Make it easy for viewers to move to specific points throughout your videos, and quickly find exactly what they need. Table of Contents gives your audience quick access to different sections in your videos. You can even create a Table of Contents within the videos
you upload and share on YouTube.


Send Videos Straight to YouTube or Screencast.com
Send your screencast straight from Camtasia for Mac to your YouTube or Screencast.com account. We even hand you the hyperlink and embed code needed to share your video via email, tweet, blog post, and more!

Sharing Made Easy
Camtasia for Mac's expansive sharing capabilities allow your viewers to access your content virtually anywhere – even from browsers or devices that are not Flash-enabled.