Top New Features
Cross-Platform Screen Recording
Collaborate with anyone, regardless of what kind of computer they're using. We've updated our screen recording file format, so you can pass screen recordings freely between Camtasia Studio and Camtasia for Mac. Using a single file format enables you to send a recording from one platform to the other effortlessly, including all the meta data, such as cursor effects and smart focus.
Google Drive
Camtasia's new Google Drive integration lets you upload your videos into Google Drive to give your viewers access from any web browser or mobile device. You can also import files into Camtasia instantly from Google Drive.
TechSmith Fuse
TechSmith Fuse, our new mobile app, makes it simple to get exactly what you need from your devices into your projects. Send your photos and videos straight from your mobile device into Camtasia's media bin. Then, use the editing power in Camtasia to create custom, shareable videos.
Capture What You're Seeing and Doing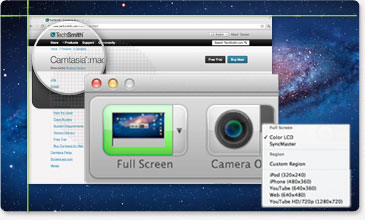 Record anything on your screen.

Powerful Screen Recording Technology
Fire up the application, webpage, or Keynote presentation that you want to appear in your screencast video, and record everything that happens on your screen. Camtasia for Mac's flexible recording options give you the freedom to capture full screen, window, or region.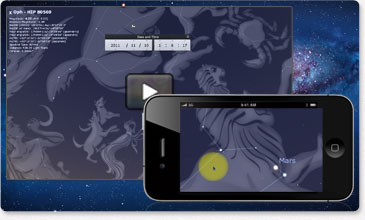 Focus on what matters.

SmartFocus
Call attention to the important details in your video automatically. SmartFocus analyzes the position of your mouse cursor, which windows are active, when text is entered, and automatically predicts the best spots to zoom into on your video.
Easily Create Videos with Professional Polish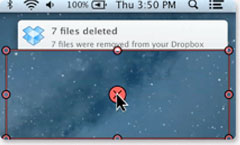 Get rid of distractions.
Freeze Region

The freeze region feature in Camtasia for Mac 2.4 allows you to get rid of any unwanted pop-ups or alerts that appear on your screen during a recording. Use it to create professional and informational videos without distractions or revealing personal information. Instead of re-recording your entire presentation, freeze region is a quick fix to get professional results.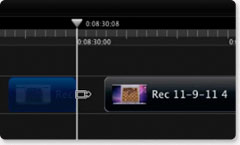 Give yourself more time.
Extend Frame

It's easier than ever to lengthen individual frames of a video and give yourself more time to highlight specific points of interest…or to simply add more time for narration.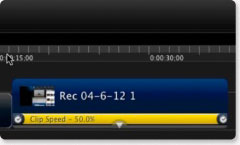 Make videos the right length.
Clip Speed

Simply drag and drop the Clip Speed effect onto your timeline to speed up or slow down your videos to the exact length you need. With Clip Speed you can easily lengthen or shorten your clips to match narration without it changing the pitch of your audio – saving you time and frustration!

Customize callouts & animations.

Easing
Give your video a less mechanical feel by changing the way your callouts or animations transition into place. By enabling easing, you can give your callouts or animations a subtle decline in speed before coming to a final stop.

Optimize your editing ability.
Lock and Turn Off Tracks and Color Picker

Safely edit only the tracks you are working on, while locked tracks remain unaffected from accidental changes. When you want tracks to have muted audio or hidden visuals, simply turn them off. Create different versions of your video in seconds! Brighten up your video with the new integrated color picker, which includes eight pre-set colors, and the option to match the color of your callouts to any color in your video.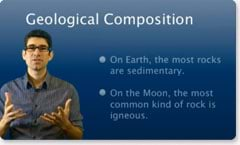 Put yourself in your video!

Green Screen Effect
Integrate yourself or others directly into your videos – making it appear as though you're right in the action of your videos. Also known as chroma key, the green screen effect allows you to create more professional and engaging videos.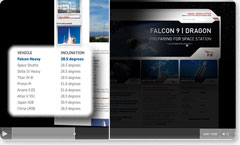 Focus on what's important.

SpotLight and Mask FX
Use Spotlight and Mask FX to easily focus viewer attention to specific actions in your videos. Spotlight FX casts a light source across your media, and the Mask FX allows you to hide your screen, revealing only specific points of interest.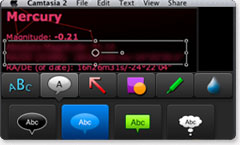 Call out or hide information.

Annotations and Blur Effect
Easily add sketch motion callouts, speech bubbles, arrows, shapes, lines, and more to point out specific features throughout your video. Or, simply blur private information distracting parts in a video.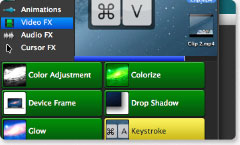 Emphasize your movements.
Cursor FX and Keystrokes

Draw attention to mouse clicks by highlighting, magnifying, or spotlighting points of emphasis, or add keystroke callouts to automatically capture any keyboard shortcuts used during recording and show them off as a graphic in your video. Add any of these engaging effects to help your viewers follow along with what is happening onscreen.
Share and Interact With Your Audience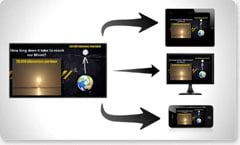 Share your videos anywhere. 

TechSmith Smart Player™
Share high-quality, HD videos at anytime, on nearly any device. The TechSmith Smart Player is intuitive
and detects if your viewer's device
or browser requires Flash or HTML5 playback support. It also makes interactive elements like hotspots, quizzes, closed captioning, and table
of contents possible.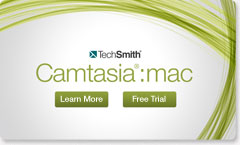 Make objects clickable. 

HotSpots
HotSpots let you create a link from anything in your video. Easily turn photos, text, graphics, and more into clickable hyperlinks that allow viewers to interact directly with your video content. Whether you're linking to a purchase page, download, or just additional content, HotSpots make it easy to keep your audience engaged.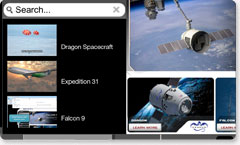 Organize your content.

Table of Contents
Make it easy for viewers to move to specific points throughout your videos, and quickly find exactly what they need. Table of Contents gives your audience quick access to different sections in your videos. You can even create a Table of Contents within the videos
you upload and share on YouTube.

Make your videos more accessible.
Save, Share, & Send

Send the videos you produce in Camtasia for Mac straight to YouTube or to our free hosting site, Screencast.com to automatically receive a hyperlink and embed code to easily share your videos in emails, tweets, blog posts, and more. Our newest sharing feature in Camtasia for Mac allows you to view a working history of all the videos you've shared to Screencast.com, with the option share them to your favorite social channels. Camtasia for Mac's expansive sharing capabilities allow your viewers to watch your content anywhere, on nearly any device.