Government License Qualifications
Do you qualify for special pricing?
Governmental entities at any level and in any country qualify for discounted pricing.
In the U.S., this includes federal, state, and local agencies. Military veterans and government-owned workstations used by contractors also qualify for this discount.
Registered non-profit organizations in any country qualify for discounted pricing.
In the U.S., non-profits are generally designated with 501(c) status by the IRS.
We do not require proof of government/non-profit status before ordering, but reserve the right to conduct a check of your qualifications at any time.
If you have any questions about your eligibility, please contact us via the TechSmith Sales Form or call at: +1 (517)-381-2300 (US & Canada only),
Can tax-exempt purchases be made in the TechSmith Store?
Tax-exempt purchases can be made on our online store; the tax-exempt certificate number must be entered at the time of purchase.
Online orders placed in the US are subject to sales tax. If tax-exempt, enter your tax id number at the top of the checkout window when you are entering your credit card details.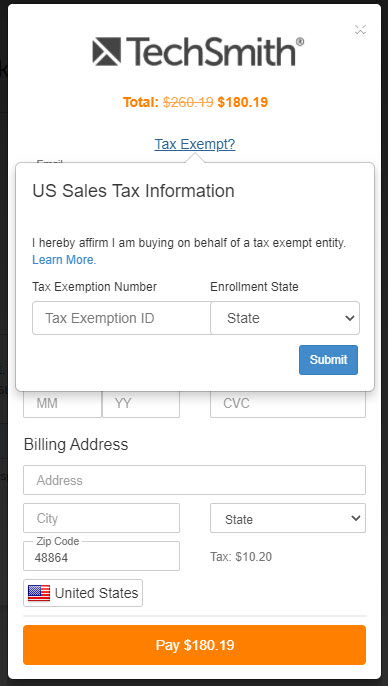 If tax-exempt and the tax id was not entered during the online purchase and tax was charged, you can request a refund of the tax paid here. A copy of the tax exemption certificate and order number will be required for a refund.

More information.