The new Camtasia 2019 is yours – for free!
One of the many benefits of your current Camtasia Maintenance Agreement is that you get this upgrade to the latest version of Camtasia for FREE. Camtasia 2019 brings you consistent audio leveling, cursor smoothing, customizable keyboard shortcuts, and more to help you create high-quality videos.
How to get your new version:
Check your TechSmith Account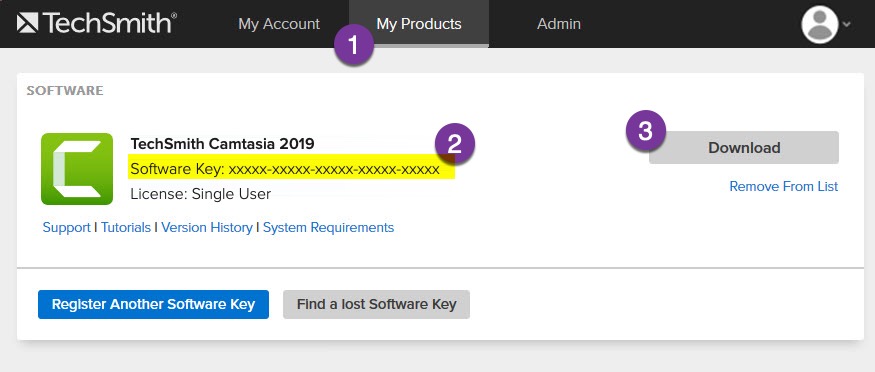 After you sign in to your TechSmith Account:
Click the 'My Products' tab
Find and copy your Camtasia 2019 software key
Download your software and paste in your new key
Check your email
Search your email for "You get the new Camtasia for free!" to find instructions.
Ask your IT/Admin
If your organization purchased Camtasia on your behalf and you are unsure of your maintenance status, please contact your IT/Admin for assistance.
---
Check out Camtasia Certification
Another benefit of having active Camtasia Maintenance is you have full access to over 15 hours of video content walking you through a Camtasia project and providing tips and tricks to help you to create videos more efficiently and effectively. Camtasia Certification is a premium learning experience taking you through the screencast creation using Camtasia.