The new Camtasia.
Now better than ever.
The latest version of Camtasia opens up all-new possibilities for creating videos. It gives you a powerful, simple, and fun way to edit videos without being a video professional. New features let you get more done, faster than ever before.
More ways to engage your audience
Camtasia now gives you all the tools you need to easily make an awesome video in hours, not days.
Add Behaviors to text and images. Camtasia makes it easy to apply eye-catching animations in just seconds where it takes hours to do the same thing in other programs.
Choose from a collection of high-quality, royalty free video assets for all your video needs. Lower Thirds and intros can be quickly edited to match your specific branding or style.
Now you can make your screencasts even more engaging. With just a click, you can instantly wrap your recordings and media inside a computer or iPhone.
Create videos even faster than before
With a 64-bit version, up to 4k editing on the canvas, and a modern look, Camtasia is even more suited to help you quickly create great video content.
Faster rendering
Camtasia now takes full advantage of your computer's 64-bit processor. Get more responsive performance, faster rendering times, and improved stability—even on your most complex projects.
Drag-and-drop editing
Now, what you see is what you get. Every effect and element in your videos can be dropped and edited directly in the preview window.
PowerPoint import
Import an entire PowerPoint presentation or specific slides into your video projects. Turn your presentation into a polished video that can be viewed over and over again.
Create and share mobile content.
Just press connect.
TechSmith Motion
Bring static images on your mobile device to life by highlighting your product or brand with video effects and text overlays.
TechSmith Capture
Record your iOS screen for training and app demos and share them directly to Camtasia for video editing.
Windows and Mac—better together
Camtasia now has one, fresh design across both platforms. It's easier than ever to work on videos with others since recordings and projects can be shared between Windows and Mac.
Multi-platform access
Your software key will unlock both Camtasia on Windows and Camtasia on Mac. So no matter what system you are using, you'll be able to get your work done.
Share recordings and projects
Camtasia now has a common platform project file that lets you and your colleagues work together on video projects on either platform.
Quizzing (Now on Mac)
No longer just for Windows users, quizzing is now available on Mac. Add quizzes and surveys to your videos so you know who watched your video and if your content was effective.
Powerful video editing software for everything you do
Check out some customer examples made with Camtasia.
Promotional Videos
Show off your product, service, or company with custom videos that attract new customers and drive traffic to your site.
Tutorial Videos
Create an engaging tutorial or build an entire training series. Use screencasts to dramatically impact your instructions.
Educational Videos
Make engaging, interactive video lessons. Get higher retention rates and create high-quality courses your students will love.
Start making amazing videos today
Upgrade to Camtasia Version 9 (Windows) and Camtasia Version 3 (Mac)
Not sure which version you're using?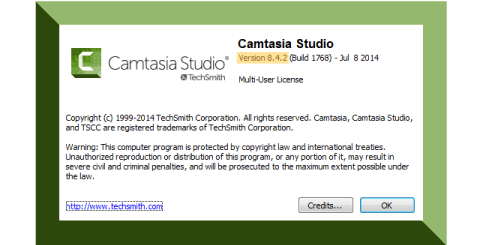 Start Camtasia

Click Help > About Camtasia

In the About Camtasia box, you should see your version (highlighted above).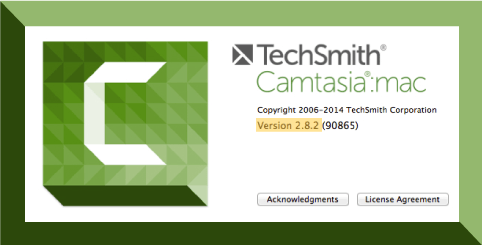 Start Camtasia

Click Camtasia > About Camtasia

In the About Camtasia box, you should see your version (highlighted above).