Customized Training and Support Across Global Markets With Camtasia
Tobii's Training and Support Teams Save Time, Improve Customer Experience
About Tobii
Tobii Technology AB is a developer of hardware and software designed for people with physical disabilities. The company's advanced eye control software allows users to operate a computer using only eye movements.
The Challenge: Providing Customized Training for All
Tobii's software can be customized to meet the specific requirements of individual users, with the overall aim of enhancing the end user experience.
Set-up of the software is usually handled by the end users' caregiver, but in the majority of cases the carers' lack of technical knowledge makes customization difficult. Additional training is required to ensure the software is successfully tailored to each user's individual requirements. As Tobii operates across a number of global markets, it's difficult for the support and sales teams to visit clients to deliver training in person.
Tobii provides printed instructions for customers, which give a step-by-step guide on how to customize the software. Live training sessions are also organized, where possible. Although more effective than the printed instructions, the sessions are only available to a small number of customers based in specific regions, and usually offer limited follow-up opportunities. Tobii was looking for a way to ensure all its customers received the same level of training through software demonstrations.
Remote IT Training for Non-Technical Minds
Following a review of available resources, trainers at Tobii identified the use of screencasting as a method of creating video demonstrations of how to customise their software. With Camtasia screencasting software, Tobii was able to record everything on a computer screen during a demonstration of the customization process, from cursor moves and clicks to how to access the specific settings menus. By adding an audio voice commentary, the recordings become video tutorials, with each step narrated by a Tobii instructor.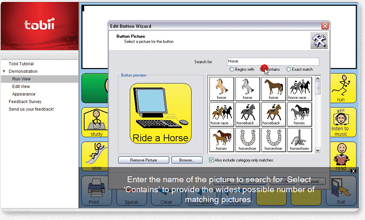 Tobii augments screencasts with subtitles, making them accessible to those who are hard of hearing. Additionally, the subtitles can be easily translated into multiple languages and scripts, so the same recordings can be used across multiple regions.
The support teams also save time, as they are required to deliver less face-to-face training and can now answer commonly asked questions FAQs by simply providing users with a link to the video demonstration in response to an inbound query.
Results: Adding Value for the Company and Customers
During the first month that the open-access, web-based screencasts with Camtasia Studio were published, Tobii's total support calls decreased by 50 percent. Following their translation into multiple languages and scripts, the views of videos on the website increased 144 percent in one month. The videos have also been uploaded to the company's YouTube channel, which had 2,500 viewings in the first four months of launching.
Lisa Ellis, European training manager at Tobii, commented, "We started using Camtasia Studio to create the tutorials as it offered a simple and easy way to create professional videos. Once the videos were in place, it was a simple matter of rolling them out across our different offices, translating them, then providing our support teams with access. It has made a significant impact on the amount of time spent on customer support and we've had a lot of positive feedback from customers."
Feedback from customers has praised Tobii for providing additional help with its products and the screencasts are now being marketed by the sales team as a value-add to Tobii's software.