Okemos, Mich. and Seattle, Wash. – TechSmith Corporation, the leading provider of screen capture and video editing tools, and Panopto, the leading video management system provider, today announce that TechSmith Snagit users can now export videos directly into their Panopto video library. This marks another milestone in the multi-year strategic partnership announced in 2021.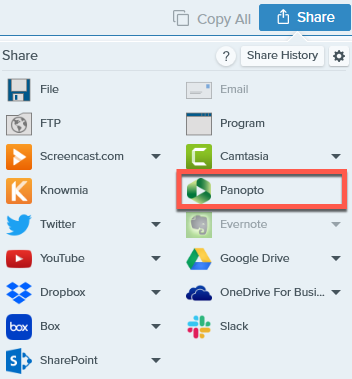 Users of both Snagit 2022 and Panopto can now seamlessly add videos to their Panopto video management system directly from Snagit with just the click of a button. With no downloading or uploading required, content creators save precious time and improve their productivity.
"With more than 39 million Snagit users worldwide, we are incredibly excited to connect what users love about Snagit's image and video creation capabilities with Panopto's leading repository for expert learning videos. This combination arms our shared customers with the most effective content creation and consumption solution for both education and commercial purposes." Tony Dunckel, VP of Product Portfolio for TechSmith, said.
This integration follows the 2021 announcement of a multi-year strategic partnership to give students, educators, and employees a powerful solution for creation, securing, and distributing video-based intelligence in universities and enterprises. In 2021 the companies announced that Panopto is the preferred video platform for Knowmia Enterprise customers, and that Camtasia users can export videos directly to Panopto. The two companies are working closely together to deliver a seamless, end-to-end video editing and sharing experience, as well as world class technical support for customers.
"This latest addition to our suite of product integrations shows our commitment to the needs of our collective customers. Sophisticated video creators want the world's best tools, and that means they want simple creation and publishing workflows," said Eric Burns, CEO of Panopto. "Snagit is a fantastic tool for quick and easy video capture, and Panopto perfectly complements Snagit as the easiest and most widely used system for securely sharing, managing, and searching video libraries. This integration marks the third phase of our strategic relationship with TechSmith, and we look forward to continuing to delight our mutual customers with ever-better ways to communicate and share knowledge using video."
To learn more about the Snagit integration click here.
About TechSmith
TechSmith screen capture software and solutions are perfect for anyone who wants to create and share images and videos for better training, tutorials, lessons, and everyday communication. Our flagship products Snagit and Camtasia are easy for anyone to learn. www.techsmith.com
About Panopto
Panopto helps businesses and universities create secure, searchable video libraries of their institutional knowledge. Since 2007, the company has been a pioneer in video capture software, video management, and inside-video-search technology. www.panopto.com