Add a Device Frame Around Your Video
In Camtasia for Mac, you can insert your screen recordings into a device frame. Choose from:
iPad (black or white)
iPhone 4 (black or white)
iPhone 5 (black or white)
iPhone 6 (black or white)
iPhone 6+ (black or white)
iMac
MacBook Pro
MacBook Air
ThunderBolt display
The device frame is ideal for Mac OS product demos or App Store application demos. It provides context for viewers as to which devices are supported for a product or application. The device frame also gives your videos that professional polish similar to Apple's tutorial videos.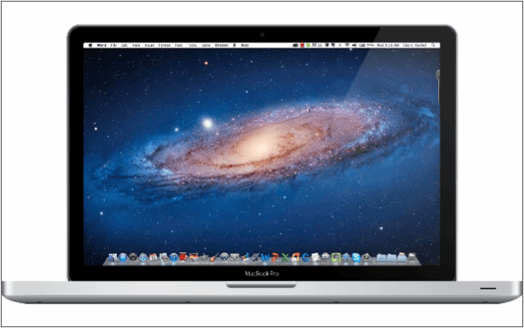 To add a device frame:
Click the Video FX tab.
Drag the Device Frame video effect onto a clip on the timeline.
Click the Properties button .
On the Basic Properties and Effects tab, select the device frame from the dropdown menu.
If you select the iPad, iPhone 4, iPhone 5, iPhone 6, or iPhone 6+ device frame, you may want to check the Horizontal option to change the orientation of the device.
| Title | Category | Level | Format |
| --- | --- | --- | --- |
| 0: Introduction | Getting Started | I | Video |
| 1: Make a great recording: Prepare, Script, Rehearse | Getting Started | I | Video |
| 2: Make a great recording: Select, Start, Pause | Getting Started | I | Video |
| 3: Editing essentials: Explore the Editor | Getting Started | I | Video |
| 4: Editing essentials: What You Really Need to Know | Getting Started | I | Video |
| 5: Editing essentials: Preview, Trim, Cut | Getting Started | I | Video |
| 6: Increase viewer understanding: Zoom, Pan, Bam | Getting Started | I | Video |
| 7: Increase viewer understanding: Annotations | Getting Started | I | Video |
| 8: Increase viewer understanding: Cursors & Clicks | Getting Started | I | Video |
| 9: Make your screencast stand out: Transitions | Getting Started | I | Video |
| 10: Make your screencast stand out: Animations & Video FX | Getting Started | I | Video |
| 11: Make your screencast stand out: Maintain Consistency | Getting Started | I | Video |
| 12: Create better audio: Mics, Recording, Audio FX | Getting Started | I | Video |
| 13: Share your screencast: The Great Export | Getting Started | I | Video |
| 14: Share your screencast: Screencast.com and YouTube | Getting Started | I | Video |
| Zooming: The Often Misunderstood Half-Holy Grail of Screencasting Quality | Main Concepts | I | Video |
| Editing Dimensions Basics | Edit | I | Video |
| Recording Tips | Record | I | Written |
| Keyboard Shortcuts | Reference | II | PDF |
| Add Interactive Hotspots to Your Video | Additions | I | Written |
| Composite Assets with the Mask Effect | Effects | II | Written |
| For Camtasia Studio 8 Users: Feature Comparison Chart | Reference | II | Written |
| Add a Device Frame Around Your Video | Video FX | II | Written |
| Apply an Animated Highlighter Effect | Animations | II | Written |
| Brand Your Video with a Watermark | Additions | II | Written |
| Captions | Audio | II | Video/Written |
| Change the Canvas Background Color | Canvas | II | Written |
| Choosing Dimensions for Quality Video Production | Reference | II | Written |
| Create ADA-Compliant Captions | Audio | II | Written |
| Create a Table of Contents for Video Navigation | Additions | II | Written |
| Create a Title | Additions | II | Written |
| Embed Video on a Web Page or Blog | Share | III | Written |
| Magnify the Cursor with Cursor Effects | Cursor FX | II | Written |
| Maintain Privacy with the Blur Annotation | Annotations | II | Written |
| Markers | Edit | II | Written |
| Record a PowerPoint or Keynote Presentation | Record | II | Written |
| Remove a Color from a Video | Effects | II | Video/Written |
| Replace a Section of Audio on the Timeline | Audio | II | Written |
| Save an Annotation for Reuse | Annotations | II | Written |
| Speed Up or Slow Down the Speed of a Clip | Effects | II | Video/Written |
| Working with the FX Drawer | Effects | II | Written |
| Connecting Your Mobile Device | Mobile | I | Video |
| Creating and Sharing Mobile Content with Windows Devices | Mobile | I | Written |
| Access and Share Files with My Places | Sharing | II | Written |
| Recording Your iOS 8 Device | Mobile | I | Video |