Import Media From Your Mobile Device to Knowmia

TechSmith Fuse is a free mobile app that shares media from your mobile device to TechSmith Knowmia. It is available for iOS and Android devices.
To share using Fuse, you need a computer and a mobile device that are on the same wireless network.
Note: If you import an H.265 video into Fuse, it converts to H.264.
For users of Apple devices: Newer Apple devices natively record videos using the H.265 encoding format when using the Apple Camera app. Unfortunately, this video format is not compatible with Knowmia. For the best experience, use the Fuse app to record any videos you plan on uploading to your Knowmia library.
Open TechSmith Knowmia
1. Log in to your Knowmia account with your TechSmith Credentials.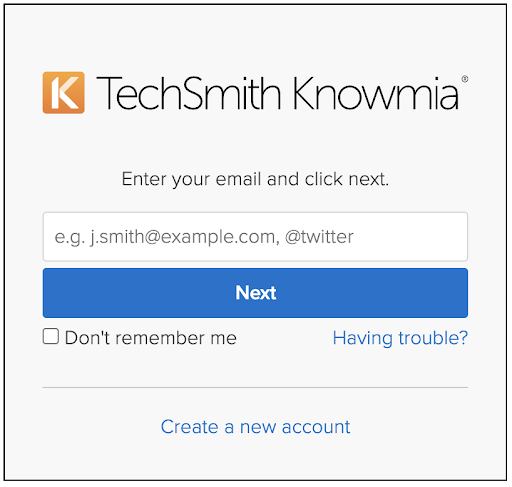 2. Click the Create button, then select Connect Mobile Device from the dropdown menu to get the QR Code. Keep the QR dialog open, as you will need it later.
Not seeing a code? Please note that this is an enterprise only feature and is not currently available on app.knowmia.com.
Install the TechSmith Fuse App
1. Download and install Fuse from the app store.
2. Open Fuse and allow it to use your device's camera and microphone.
Note: Fuse records video and images directly in the app.
Import a Video or Image to Fuse
1. In Fuse, select Library.
2. Tap Import and select a photo or video from your phone's library.
3. Tap Choose. The media appears in your Fuse library.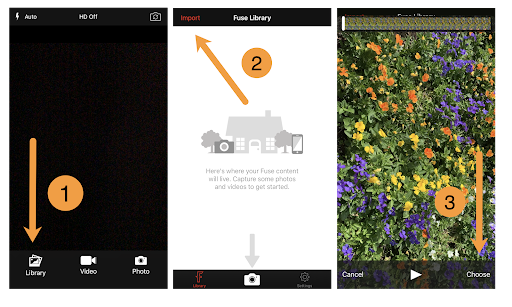 Share to Knowmia
1. In your Fuse library, select the video to share. Tap Share > TechSmith Knowmia.
2. If it's your first time using the app, you are prompted to scan the QR code mentioned above. Simply point your phone or device camera at the QR code that's displayed on your computer. This creates a connection between your phone or device to Knowmia which you can quickly use again in the future.

3. Add a title and description and tap Send. The video appears in your Knowmia Library.