Install TechSmith Capture
To get started, click Launch Capture in the Knowmia Library. The app needs to be installed on your system before continuing.
TechSmith Capture is supported on macOS 10.15 or earlier. To learn more about running TechSmith Capture on macOS 11 Big Sur, see this support article.
A new tab opens in a web browser window and attempts to launch TechSmith Capture. Click Download.
After the download is complete, look in your browser or System Downloads folder for the setup file. Click to open the file and complete the installation.
Open Capture Recorder
Return to the Knowmia Library and click Launch Capture again. Click Open TechSmith Capture, and the app appears.

Record Your Video
Toggle on the webcam feature if you'd like to include yourself in the video, and select which camera device you want to use if you have more than one connected. Choose if you want to record your webcam using Picture-in-Picture or Fullscreen.
Note: You cannot switch between modes once you've started recording. You can only show/hide the webcam during recording.

Click Capture to select what to capture on your screen. Choose from full screen, or click and drag out a selection.

When finished, click Stop. This opens a preview of the recording.
Click Cancel to try again or click Upload to Knowmia.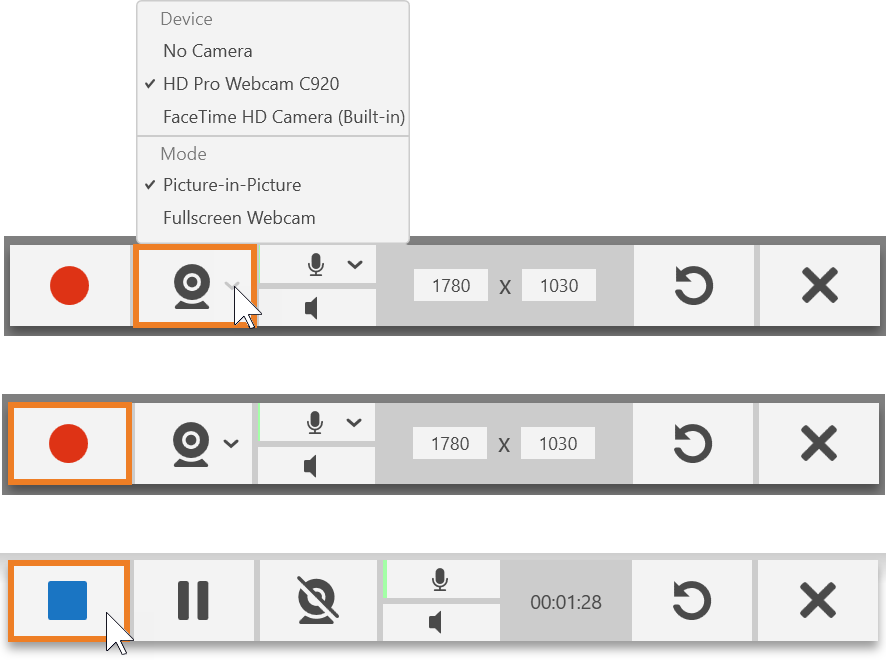 Upload Your Video
Click Continue, and the web browser opens to the video view page.
To change the title and add a description, click the Details tab below the video and click Edit Details.

Enter a new name for your video title and a description.

Here you can add links to slide decks, PDFs, websites, and other supplemental resources.
Click Save and the new title and description (with the clickable link) are updated for the video.