Recapture Your Day with Snagit
Create remarkable visuals. Reduce wasted time.
Share important information.
Why Snagit Screen Capture?
Visuals help clarify your message and get you hours back in your work day. Snagit is the premium tool for screen capture and screen recording on Windows and Mac. Combining traditional screenshots, videos, and image editing to help you share important information with the people who need it most.
Leave coworkers and clients wondering how you responded so quickly. Reply with marked up images and quick videos rather than text to drastically reduce your email back-and-forth.
Visuals are vital to online communication. Images and videos let you clearly get your point across so you can spend less time communicating and more time getting work done.
Save pieces from online articles, web pages, or documents. Highlight and take notes on top of your capture, organize your research by keyword, and share out crucial information.
FEATURES
Quickly capture images and videos of your screen.

Snagit's image and video capture is powerful, but not complex. You're in control of everything you capture, right down to the pixel. All-in-One Capture® grabs your entire desktop, a region, a window, or a scrolling window from any webpage or application—all with a single hotkey or click.
Quickly capture a full-page screenshot even if it's not showing on the screen. Grab the horizontal, vertical, or entire scrolling area with just a click.
Capture wide, horizontal scrolls, infinitely scrolling webpages, and everything in between. Capture once, instead of taking individual captures and manually editing them together.
Turn any short recording into an animated GIF. Perfect for showing off quick tasks and workflows.
Get your point across. Mark up your screenshots.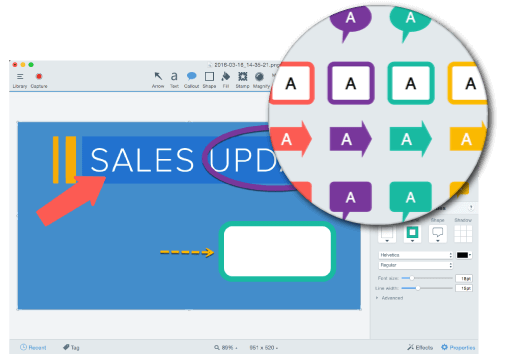 Showing team members is a lot easier than telling them. Snagit has a dynamic editor that lets you turn plain screenshots or screengrabs into clear, concise communication. Comment over screenshots using text boxes. Point out your ideas with arrows and shapes. Or simply highlight key areas. And Snagit's toolbar is completely customizable so all of your favorite tools stay front and center.

Personalize your images with stickers specifically designed for screenshots. Get the latest stamps straight from Snagit, or download previous stamps here.

Add effects like border, shadow, and torn edges to your entire screen capture. Or, create your own custom style.

Find all of your past captures without wasting time digging for them. Your screen captures are automatically saved to your library, with the most recent captures viewable all the time. Tag captures to always keep your projects organized.

Zoom in to show people exactly what you're seeing. Customize the outline color, zoom power, and size of your magnification.

Call attention or highlight an item in your screen grab.

Add captions, headings, or other text to an image.

Draw attention to something important on your screenshot. A callout includes an annotation plus text.

The Crop tool removes unwanted areas from the edges of an image.

Highlight specific parts of an image to show important details.

Flood-fill a flattened area in an image with another color.

Delete a vertical or horizontal section out of an image and join the two pieces together.

Draw freehand lines on an image.

Easily highlight, cover, or even add parts to an image so you can clearly communicate your ideas.

Quickly document steps and workflows with a series of numbers or letters.

Hide or mask sensitive information in an image.

Add a straight or curved line to an image.
Video capture. Made easy.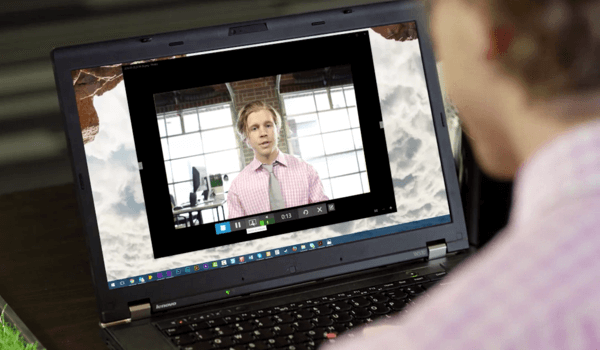 Context is everything. Recording a video lets the person on the other end actually hear your voice. So the next time a webpage, PDF, or video edit is sent to you for feedback, consider dropping the red pen and record a video instead. With Snagit, there's no waiting. You can record your video, and share it within seconds.
Webcam recording - Toggle between webcam and screen recording during a video to add a personal touch with teammates or clients, no matter where they are.

Video trimming - Quickly get rid of any unwanted sections from your screen recordings. Remove ums, ahs, coughs, extra time from the beginning, middle, end, or any mistakes you want to correct.

Record audio - Include audio from either a microphone or your computer's system audio.


"Snagit makes it easy for us to empower colleagues across the company
to share their personal knowledge with others."
Casson McRae -

Get Snagit today
Compatible with the Windows® 10 operating system
Try for 15 days and explore all of Snagit's features, no credit card required.
Buy both Snagit Version 13 (Windows) and Version 4 (Mac) on one license, without any annual fees or subscriptions.
| | | |
| --- | --- | --- |
| Qty. | | Price each |
| 5-9 | | $39.46 |
| 10-24 | | $34.96 |
| 25-99 | | $29.97 |
| 100-249 | | $24.97 |
| 250+ | | Contact sales |