Add Interactive Hotspots to Your Video
Have you ever wanted to link to a website from your video, or allow viewers to replay or skip certain sections? Interactive hotspots can direct viewers to another section of your video, give them the option to replay, or even launch a website.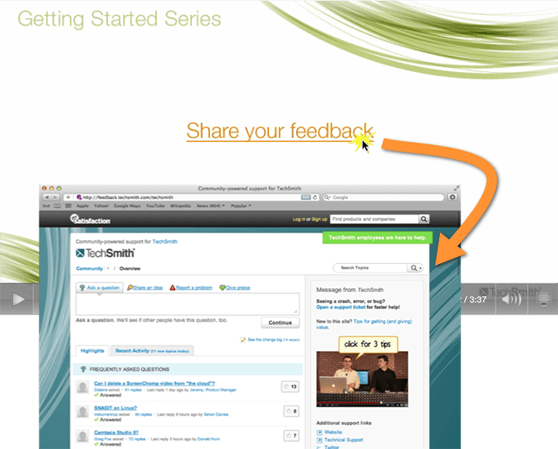 Use interactive hotspots to:
Direct customers to websites in a new browser window
Take viewers to specific markers within the video
Allow viewers to replay a section in the video
In order to utilize this feature in Camtasia for Mac, you have to share to Screencast.com, or choose the Export as Web Page option.
Add an Interactive Hotspot
First, it's important to understand that a hotspot is an effect, and so it must be applied to an asset already added to the timeline. Click and drag the Interactive Hotspot effect from the Video FX tab onto the timeline or canvas to the desired media clip, shape, callout, or text annotation.


Make sure you have the asset with the hotspot selected on the timeline, then open the properties panel by clicking on the Properties button and edit the Interactive Hotspot section. When entering a URL or Time, press Enter or Return on your keyboard to commit changes. For more information on the properties options, see the following descriptions:



Pause at end: Viewer must click the hotspot to continue viewing the video.

URL: Opens a web page when clicked. Enter the web address and press Tab or Return on your keyboard.

Marker: The video jumps to a marker in the video. Select a marker from the dropdown.

Time: The video jumps to a specific frame. Enter the frame to jump to Minutes:Seconds:Frames.

Click to continue: The viewer must click the callout to continue viewing the video.
Sharing Your Video
Share your video to Screencast.com or choose the Export as Web Page option. These are the only sharing options that support interactive hotspots. If you do not have a Screencast.com login, sign up for a free account.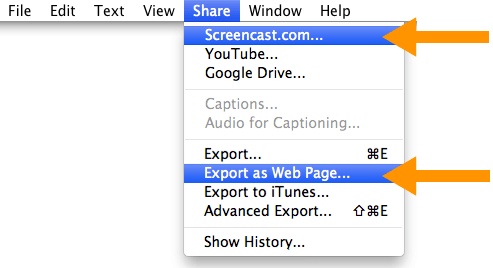 | Title | Category | Level | Format |
| --- | --- | --- | --- |
| 0: Introduction | Getting Started | I | Video |
| 1: Make a great recording: Prepare, Script, Rehearse | Getting Started | I | Video |
| 2: Make a great recording: Select, Start, Pause | Getting Started | I | Video |
| 3: Editing essentials: Explore the Editor | Getting Started | I | Video |
| 4: Editing essentials: What You Really Need to Know | Getting Started | I | Video |
| 5: Editing essentials: Preview, Trim, Cut | Getting Started | I | Video |
| 6: Increase viewer understanding: Zoom, Pan, Bam | Getting Started | I | Video |
| 7: Increase viewer understanding: Annotations | Getting Started | I | Video |
| 8: Increase viewer understanding: Cursors & Clicks | Getting Started | I | Video |
| 9: Make your screencast stand out: Transitions | Getting Started | I | Video |
| 10: Make your screencast stand out: Animations & Video FX | Getting Started | I | Video |
| 11: Make your screencast stand out: Maintain Consistency | Getting Started | I | Video |
| 12: Create better audio: Mics, Recording, Audio FX | Getting Started | I | Video |
| 13: Share your screencast: The Great Export | Getting Started | I | Video |
| 14: Share your screencast: Screencast.com and YouTube | Getting Started | I | Video |
| Zooming: The Often Misunderstood Half-Holy Grail of Screencasting Quality | Main Concepts | I | Video |
| Editing Dimensions Basics | Edit | I | Video |
| Recording Tips | Record | I | Written |
| Keyboard Shortcuts | Reference | II | PDF |
| Add Interactive Hotspots to Your Video | Additions | I | Written |
| Composite Assets with the Mask Effect | Effects | II | Written |
| For Camtasia Studio 8 Users: Feature Comparison Chart | Reference | II | Written |
| Add a Device Frame Around Your Video | Video FX | II | Written |
| Apply an Animated Highlighter Effect | Animations | II | Written |
| Brand Your Video with a Watermark | Additions | II | Written |
| Captions | Audio | II | Video/Written |
| Change the Canvas Background Color | Canvas | II | Written |
| Choosing Dimensions for Quality Video Production | Reference | II | Written |
| Create ADA-Compliant Captions | Audio | II | Written |
| Create a Table of Contents for Video Navigation | Additions | II | Written |
| Create a Title | Additions | II | Written |
| Embed Video on a Web Page or Blog | Share | III | Written |
| Magnify the Cursor with Cursor Effects | Cursor FX | II | Written |
| Maintain Privacy with the Blur Annotation | Annotations | II | Written |
| Markers | Edit | II | Written |
| Record a PowerPoint or Keynote Presentation | Record | II | Written |
| Remove a Color from a Video | Effects | II | Video/Written |
| Replace a Section of Audio on the Timeline | Audio | II | Written |
| Save an Annotation for Reuse | Annotations | II | Written |
| Speed Up or Slow Down the Speed of a Clip | Effects | II | Video/Written |
| Working with the FX Drawer | Effects | II | Written |
| Connecting Your Mobile Device | Mobile | I | Video |
| Creating and Sharing Mobile Content with Windows Devices | Mobile | I | Written |
| Access and Share Files with My Places | Sharing | II | Written |
| Recording Your iOS 8 Device | Mobile | I | Video |