Capture an Image
Jing can capture and share images from your computer screen. You can annotate the images with text, arrows and more to draw your viewer's attention and make your point clear.
Once you select your entire desktop, window or area to capture, click the Image button.
 You can annotate the image in the Jing Preview Window several ways:
Use the Arrow tool to focus the viewer's attention on something.
Use the Text tool to write a comment, note, or ask a question.
Use the Frame tool to draw a box around something noteworthy.
Use the Highlight tool to draw attention to something.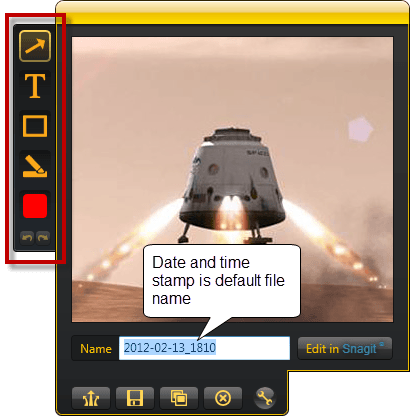 Click the Undo button or use Ctrl + Z (Cmd + Z on Mac) to undo mistakes you may have made. Click the Redo button or Ctrl + Y (Cmd + Shift + Z on Mac) to redo annotation you may have undone.
Once your image is ready, you can name the image file. The default date/time stamp works fine, but if this is an image you might need to find later, we suggest giving it a logical name.
A few last tips:
You cannot annotate videos, so these tools will not appear in the Video Preview Window.
Try experimenting with the font type, color and size. Pick a combination that suits you!
Once you annotate an image and copy, save, or share it, you can no longer go back and undo the annotations.
Annotations are layered on the image in the order drawn. If you are making a text box and an arrow pointing out something to the viewer, it can look a little better if the arrow is drawn first so it's under the text box. You can always move it later.
OK, so you've captured an area, maybe made some annotations, perhaps named the file. Now it's time to copy, save or share the image.