How is a Feed and a Collection Related in Knowmia?
Your Feed shows the latest media from any Collections you follow. The media is listed with the most recent content displayed first to easily see what's new.
For Content Owners/Instructors: Create a Collection
1. Click the My Library tab.
2. Click the + icon next to My Collections.
3. The Create New Collection dialog appears. Enter a name for the Collection.
4. Select a privacy level from one of the following options:
Only people with the link - Anyone on the internet with a link can view. Hidden from public search engines.
By invite only - Only those invited by the collection's managers can see and follow this Collection.
5. Click Create.
Knowmia creates a new Collection in your library.
Share Media to a Collection
1. In My Library, click the

icon on a piece of media and drag it to the desired Collection name.
2. In My Library, click the

icon on the media and select Share to Collection. Select a Collection from the dropdown and click Share Media to Collection.
A Few Collection and Feed Use Cases
Use Case 1: An instructor wants to share several videos about an upcoming project with students using a single link. Create a Collection in Knowmia and call it, Video Project Assignment. Add multiple videos to the Collection and then share the link to the Collection with your students. When the students click the link, they can join the Collection to view all of the shared videos within their Feed. All members will receive an email notification if new media is added to this Collection.
Use Case 2: At the beginning of a semester, you'd like all students to create a video to introduce themselves to each other. Create a new Collection called Student Introductions and set the default collection permissions to Contributor. Share the link with your students for them to join the Collection. Students can now share their introduction video to this Collection, and all members can view the videos in their Feed.
Use Case 3: Create a new Collection called FAQs and share the link with your students to join. Answer common questions with a video response and share them in this Collection. Whenever new questions are asked throughout the semester, share your video responses to this Collection so all members are notified in their Feed and get the same answer. This can help reduce the same questions being asked by multiple students.
Join to Follow Media in a Collection
1. When you receive a shared Collection link, click the link to view the Collection in a web browser.
2. To join a Collection, you will need to sign in to Knowmia.
3. Once signed in, click Join to Follow.


4. Knowmia adds the Collection to your Feed.
5. All Collections that you are either a Manager, Contributor, or Participant of are shown on the left.
6. You will receive an email notification when new media is added to this Collection.
Frequently Asked Questions:
Can I still view media in a Collection if I don't join to follow it?
Depending on the privacy settings for the media in the collection, you may still be able to view the media without joining to follow. If you don't follow the Collection then you will not be notified via email when any new media is added.
Who can view my Collection?
Anyone with the link can view media shared in a Collection.
Can anyone see media that I have set to Private in a Collection?
If the owner sets the media privacy to Only you, a lock icon will show this media as private for any Collection it is shared in.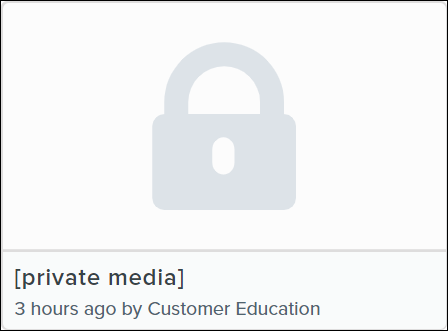 Can I delete a Collection?
Only Managers of a Collection are able to delete in Settings > Delete Collection. Participants and Contributors do not have access to delete Collections they follow.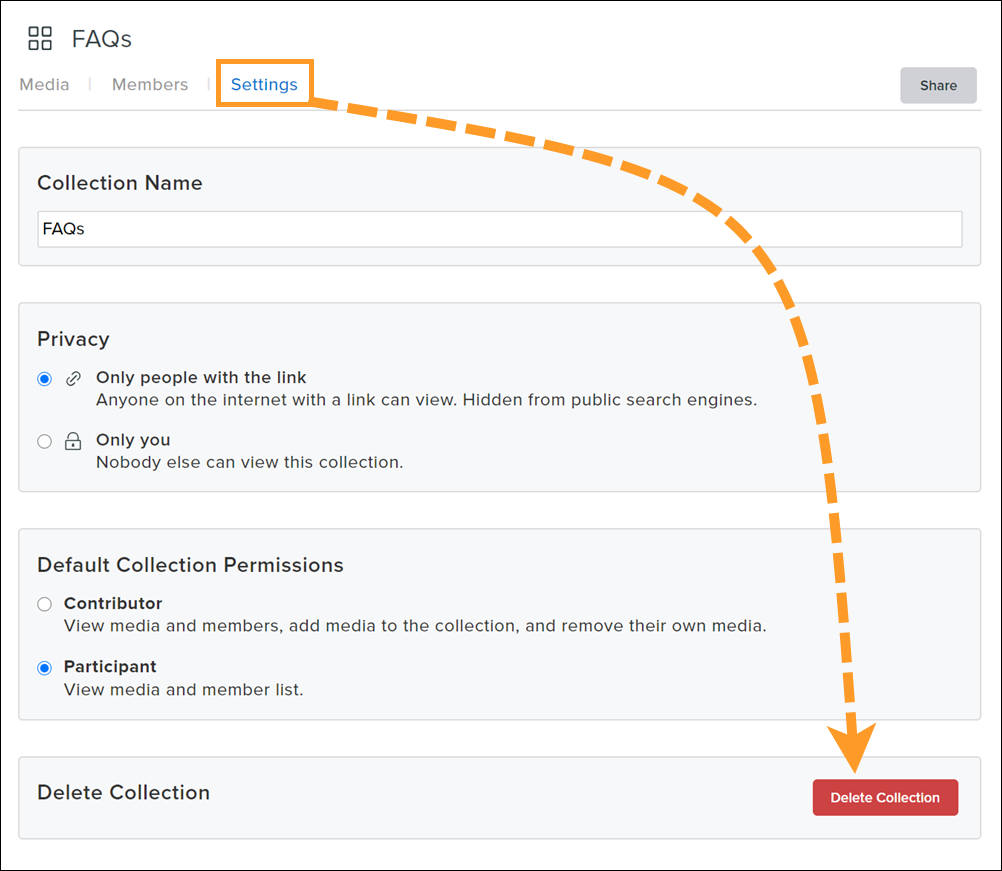 Can I leave a Collection?
Yes. Click the Leave button to remove yourself from any Collection that you follow.