Create a Custom Graph
Instead of manually calculating data and building graphs, Morae creates graphs to help you share results faster, conduct more testing and spend more time focused on solving usability issues rather than scrubbing data.
The quantitative data used to create graphs in Morae provides hard evidence of usability issues, which complements the qualitative highlight videos. Highlight videos appear more professional and powerful with graphs included to support the qualitative video clips.
See the following topics for more information:
Create a Graph
Follow callouts below to create a graph: 
| | |
| --- | --- |
| | Click the Create new graph button. |
| | Select an analysis type from the drop-down button. |
| | Select a metric for that analysis type from the drop-down button. |
| | Select Average (mean) of or uncheck to see the details of each task and participant. |
| | Click Edit Metric to define details or the metric and to filter data that appears on the graph. |
| | Select to see the graph either by participant or by task. |
| | Use all recordings in the graph or select specific recordings. |
| | Use all tasks in the graph or select specific tasks. |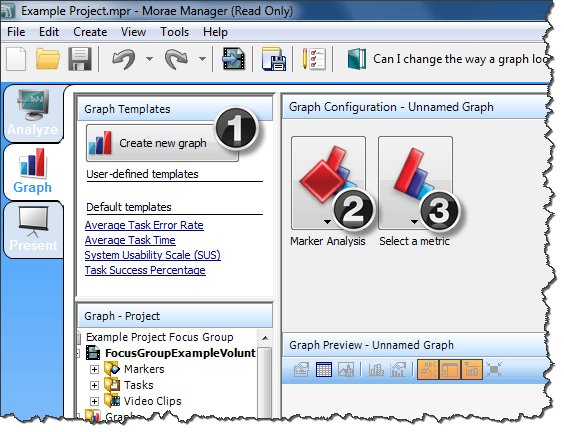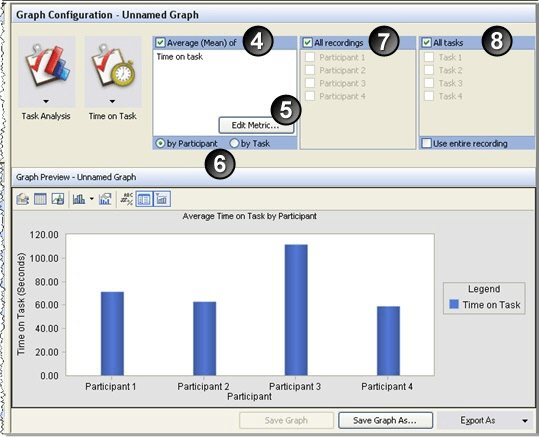 Create a Graph Template
In Morae Manager, you can customize the type of analysis and appearance of your graphs. You can save these settings in a template to use with all your projects. Morae also ships with a set of default templates you can use. User-defined templates are stored on a computer, not as part of a project, so you can use them on all of your projects.
To Save a Graph as a Template
Create a graph and customize the analysis and appearance of the graphs.
Choose File > Save > Graph as template or right-click on a graph and choose Save as template.
Enter a name for the graph template. The template appears in the list of templates in the Graph tab.

Graph Analysis Examples
The following table contains some graph analysis examples and explains reasons for using them. See the Morae Manager Help File for additional examples.
Mouse Clicks Graph


Input Device Analysis


Mouse Clicks

Use the graph to measure the number of clicks required to complete a process. Add a constant line to show optimal clicks.

For example, if the goal is for participants to find information on a web site in three clicks or less, you can easily see if that goal has been met.

Count of Markers Graph


Marker Analysis


Count of Markers

Use this graph to analyze how many total markers were set, how many of a certain type of markers were set, etc.

When looking at how many errors occurred, for example, you would get a count of E markers. The graph would help in understanding how many errors participants make when doing tasks.

SUS Survey Graph


Survey Analysis


SUS Survey Calculation

Use this graph to measure satisfaction from a System Usability Scale (SUS) survey.

SUS scores can range from 0 (very little satisfaction) to 100 (very high satisfaction).

Time on Task Graph


Task Analysis


Time on Task

Use this graph to measure efficiency. Efficiency is usually measured by determining how quickly participants are able to complete scenarios or tasks.

Participants may be able to successfully complete an activity, but they take a long time. In fact, they may take so long to complete a Web-based task that they find it easier to call someone on the telephone or walk to someone else's desk and ask them.

Web Page Changes Graph


Web Page Analysis


Web Page Changes

Use this graph to understand how many web pages participants used, include a constant line to show how many pages are in the optimal path and illustrate the difference.