Record a PowerPoint Presentation
Use the Camtasia Studio PowerPoint Add-in to record and produce PowerPoint presentations from within Microsoft PowerPoint®.
In the Task List, select Record PowerPoint.
Microsoft PowerPoint® opens. Open a PowerPoint presentation to record.
Select the recording options from the PowerPoint Add-in Toolbar.

To record voice narration, enable Record Audio .
To record camera video (Picture-in-Picture), enable Record Camera .
To preview the camera stream while recording, enable Camera Preview .
Click Camtasia Studio recording options to change the settings.

Click the Record button .
The presentation opens in presentation mode. A Camtasia Studio dialog opens in the lower right corner of the screen. Click the Click to begin recording button.

Progress through the PowerPoint presentation slides.
To stop the recording before the last slide, press <ESC>. To stop the recording at the end of the presentation, click Stop recording.
Enter a file name and location and click Save. The presentation recording saves as a Camtasia Studio recording file (.camrec).
PowerPoint Add-In Hotkeys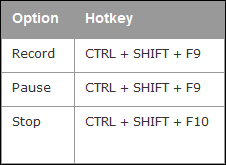 PowerPoint Recording Tips
Use the following tips for best results when recording and sharing a PowerPoint presentation.
Best Font: 32 Arial
Use Sans serif fonts
Use high contrasts: Either a light background with a dark font or a dark background with a light font
Use simple backgrounds
Spell check before recording
Use the Notes option – import slide notes into Camtasia Studio as captions
Use Title placeholders – title text imports into Camtasia Studio as table of contents markers
Use well-cropped images
Use simple animations
Add transitions between slides in PowerPoint, not Camtasia Studio. Use the same transition throughout the entire presentation.